Do you want to know what the best railway apps for Android is?By definition, it is an application where you can find all the railway services. You can book tickets, check seat status, and also check the train status.
To begin with, you can find most of these aspects on the IRCTC website, another best railway apps.
IRCTC is a subsidiary of the Indian Railways. You can access all passenger related aspects using IRCTC.
Many similar applications are available online. Any individual can handle these applications with ease.
Additionally, these applications also provide extra features. This makes the experience interesting for the user.
This article will introduce you to the best Indian railway app. You will also get to know about the best train tracker app and other necessary information.
"Where is My Train" best railway apps
This is the best app for live train running status. It has been designed by Sigmoid Labs and has a minimal size. The application performs efficient data and battery usage.
When you install this app, you can know the exact location of any train. You can learn about the time delay status. Additionally, you can find the ETA of the train at any station en-route.
The latest version of the application is version 6.1.8.
You can get offline timetables, PNR status as well. Furthermore, check on the seat availability and fares of your train.
This application is the very definition of the best Indian Railway app.
Which is the best IRCTC app for iPhone?
Ixigo fits this definition. This app also provides you with the railway ticket inquiry NTES system. It also allows you to check the PNR status.
It has a user-base of about 10-crore. It also provides entertainment in a low internet connection. This is helpful, especially during journeys.
You can get timetables as well as coach position, platform number, and ETA. Live train status is also provided by the application.
It is the best rated iPhone compatible railway app. The uninterrupted entertainment service makes it a favorite.
What is the difference between tatkal and premium tatkal?
Tatkal is a scheme launched by Indian Railways. It allows you to book railway tickets one day before the journey. It is mostly used when tickets are booked urgently.
The premium tatkal quota has been recently launched. The fare of a premium tatkal ticket varies considerably than a normal tatkal ticket.
Booking a premium tatkal ticket is quite expensive. The fare component increases with subsequent tickets.
Both tickets have the same reservation period. But, waitlist tickets cannot be booked for the premium quota. Even agents are not allowed to book a premium tatkal ticket.
Confirmation for both these tickets depends on the waitlist. You can book them online as well as offline portals.
What is the fastest way to book a tatkal?
A confirmation on the tatkal ticket depends on the waitlist. Your chances decrease as the list increases.
Yet, there are some measures which will help you in the process.
Tatkal booking for AC coaches begins at 10 am and for non-AC coaches at 11 am.
Also Read: Earn unlimited paytm cash from paybox
You can consider the following steps to book the ticket faster.
To begin with, start the process a few minutes before the scheduled time. Fill in the passenger details as a head start.
Keep your ID details like PAN card near your hands. This is crucial if you want to book faster.
Try to log in from more than one credentials. Use the login information of your close ones and friends. This increases your chances of getting confirmation.
Use net banking to pay for the tickets. This is much faster, and you do not have to insert long card related information.
Keep your phone with you. This is important for the OTP verification of IRCTC.
You might fail to book AC tickets. In such cases, try booking non-AC tickets at 11 am. Follow the same instructions for that as well.
Here are the Best Indian Railway Apps for Android & IOS
Along with the before mentioned applications, the following are also popular with the people.
This application best fits android devices. It has a smooth functioning. This application is ideal for tatkal bookings. You can book tickets under the senior citizen and ladies quota as well. The swiping feature of the app makes it easy to use and accessible.
2. NTES
The application is suitable for both Android and iPhone devices. It mainly covers Delhi, Mumbai, Chennai, Palwal routes. The app promotes the use of e-tickets.
As per namesake, the application provides NTES inquiry, timetables, and other information.
3.UTS
This is one of the best railway apps for 2020 android devices. It allows you to book and cancel your ticket. You can even reschedule them. Live train status is also provided. The app has a user base of about a million users.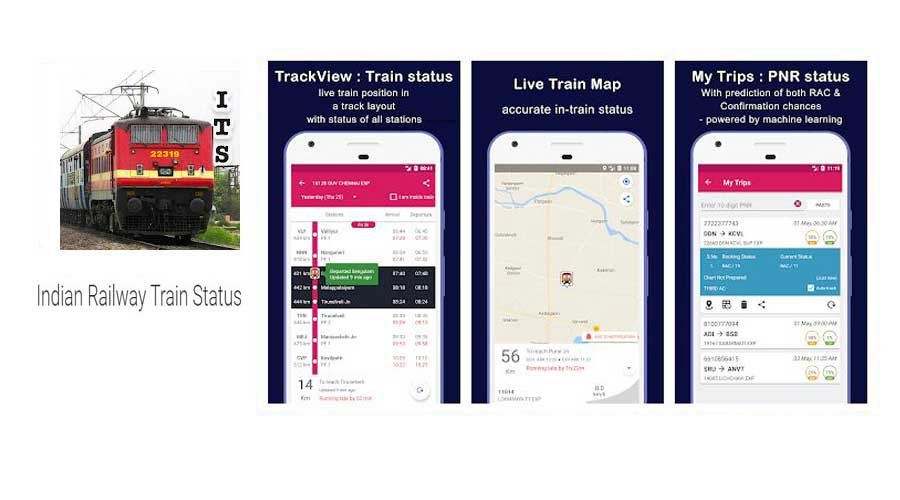 This application is compatible with both Android and iPhone devices. You can book your trip from your home only. You can check the live status of the train. Timetables and berth calculators are also provided in the application.
This application needs no introduction. It guarantees to give you the best deals on flight and train bookings. You can search for the available trains. Both general and tatkal tickets on all major Indian routes are available here.
6.Goibibo: Goibibo is another popular application. Along with the booking, you can check the PNR status and also get a trip guide. It is an official IRCTC partner. You can check the seat availability, and the chances of confirmation are more significant.
7.Yatra: Yatra has been relevant for some time now. It is a trusted application to make your bookings easy. Search for the tickets and book them. You can pay using eCash as well. PNR status and live train status are also available in this app.
8.Cleartrip: Cleartrip is a one-stop destination for your bookings. You can book your tickets and check the PNR status as well. The app provides you with live train status and NTES inquiry. The availability of seats can also be checked using this application.
A lot of other applications are also available online. You need to choose a suitable one according to your requirements.
Conclusion
These were some of the best Indian Railway apps.
Online booking has made it easy for the masses to book a ticket. The additional features provided by these apps have made them famous.
There is a stigma associated with Indian Railways that it is never on time. There are facts that both support and contradict this statement.
Regardless you can be up to date with train information using these applications.
So book your tickets and get on the ride.
Also Read: Best safe rom sites